Generally, organizations think they are doing a good job of engaging and recognizing their employees. BI WORLDWIDE's (BIW) research tells us that only 52% of employees are recognized in their first year of employment and 35% of new hires are planning to leave in the next 12 months. Those that are recognized are 2.1x more likely to stay.
Once you've attracted the right people, an employee recognition program will continually reflect and reinforce your brand values and behaviours – and what is recognized will be repeated. When you've inspired your employees through your brand and recognized those who live out your brand, your customers feel it and benefit from it, creating another important reciprocity model known as the Value Funnel.
Employee recognition programs are an essential part of delivering quality experiences for your customers – whether it be peer-to-peer or manager discretionary recognition with points. We know that those who are frequently recognized are more committed and work more intensely and deliver better service.
In a study of over 23,000 employees, BIW found that a 10% reduction in turnover is seen between employees who are rarely recognized compared to those who are frequently recognized. In this analysis, rarely is defined as receiving 0-1 recognition per month and frequently is defined as receiving 3-4 recognitions per month.
An employee recognition program should be specific to your overall engagement strategy. The technical solution or software should have a choice of flexible options to provide a variety of recognition capabilities from peer-to-peer, manager-to-employee, years of service awards, nominations, communications, and a robust reporting suite to ensure you are able to measure and understand the results and impacts.
__________
What is an Employee Recognition Program?
An employee recognition program is a system that acknowledges the hard work and accomplishments of employees within an organization. Recognition is often given on a platform that facilitates the giving and receiving of recognition, with points redeemable for rewards. The purpose of an employee recognition program is to increase employee engagement and productivity, drive a positive culture of recognition throughout an organization – and boost its bottom line.
An employee recognition program also helps to:
Communicate and reinforce a company's strategy, culture, and values by reinforcing, leveraging, and contributing to others' success.
Foster and encourage innovation and new ideas to transform the business.
Combine and expand existing, disparate recognition initiatives to reinforce culture.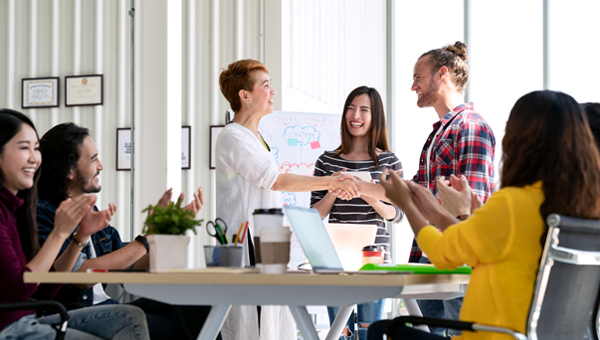 Employee Recognition Framework
According to The Conference Board of Canada, almost 90% of Canadian organizations have a formal recognition platform in place. However, too often, recognition programs focus solely on recognizing top performers with a large award may be once per year and most do not take into account what's most meaningful for each individual.
While it's important to recognize top performers for their significant contributions, limiting recognition to a select few on an infrequent basis fails to align and engage the organization as a whole. Your high performers will quickly see through anything less than excellence – and seeing awards for mediocre work will only signal to your stars that your organization is not for them.
To increase engagement, drive organizational change, and shape culture, your recognition program needs to reach as many employees as frequently as possible using different types of recognition.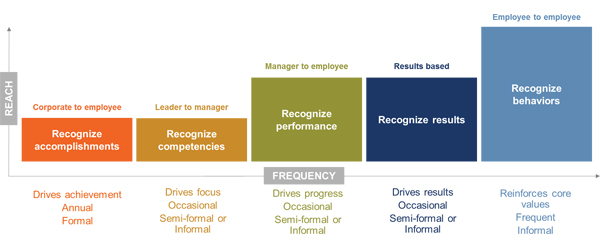 The more types of recognition you use, the more employees you will reach and engage.
__________
Recognition options
Your recognition platform should include public recognition, peer-to-peer recognition, and manager-to-employee recognition.
Public recognition
A public or social recognition platform can reinforce the culture of your recognition program across the organization.
Studies have shown that organizations with engaged employees have decreased rates of turnover, 21% more profitability, and 17% higher productivity.
Social recognition platforms highlight special moments, kudos, and the achievement of milestones. They can contain personalized eCards, eCertificates, badges, and corporate values/behaviours. Individuals can also upload their own eCard or video as part of the recognition process. Individuals will receive an email when they are recognized as will their manager giving visibility to the recognition. Getting "points redeemable for rewards" on a corporate social recognition platform may not mean as much as having their manager copied on an email explaining what a difference they made.
In addition to manager and employee notification, these recognitions can be written to a Public Recognition Wall to help highlight recognitions happening across the organization.
Peer-to-peer recognition
Studies have shown that 41% of companies that use peer-to-peer recognition have seen marked positive increases in customer satisfaction (BIW, Aon, Gallup, Crain's).
Peer-to-peer recognition is a key component of a comprehensive social recognition strategy. Take a look at all of the "likes" on social media and you'll see just how hungry we are for the approval of our peers … and how much we enjoy both receiving — and giving — compliments. Of course, a well-designed peer-to-peer recognition program does more than create a collection of "You are so good at what you do" posts.
When an employee is recognized by a peer, he or she is likely to repeat
the behaviour that earned the recognition. Why? Because it produces a
double-dopamine rush: Doing the behaviour feels great – and being
recognized for it does too.
Those who anticipate recognition for their future successes feel a greater
obligation to work hard, give a higher proportion of their full effort, look for
ways to improve the way they do their work and deliver more of their best
ideas to the company.
A company-wide peer-to-peer recognition program can increase your employees'
anticipation of appreciation because recognition occurs frequently. In our
research, we've found the anticipation of being recognized paired with
being recognized often drives behaviour change, satisfaction, and engagement.
Manager-to-employee recognition
Managers account for at least 70% of the variance in employee engagement scores (Gallup 2015). Not surprisingly, strong manager performance in recognizing employee performance increases engagement by 60% (Towers Watson). Since recognition makes a significant impact on engagement, a manager-to-employee recognition program makes it easier for managers to participate.
Managers are time-poor. Most like the idea of recognition and see the benefits, but the process of approvals, finding a reward, finding time to give the reward, and submitting expense reports is too time-consuming. With a recognition program, managers can give a quick thank you note and personalized eCard in less than 20 seconds. To add a reward, add another 5 seconds to enter the number of award points to issue. Even if they aren't on a computer, recognition is just as accessible on a smartphone via a website or mobile app.
As easy as it is to give recognition, it's just as easy to look at the recognition levels of the team. Managers have report access for their teams and can look at real-time data for who is being recognized, by whom, for what and when and offers individualized manager insights for more equitable and inclusive recognition.
Managers also have several do-it-yourself tools on the recognition technology platform so that they are empowered to communicate, motivate, and engage their teams to drive local or short-term objectives. Empowering managers increases their engagement levels, but it also drives employees. 81% of employees say they'd be willing to work harder for an appreciative manager (Glassdoor 2023).
Recognition augments compensation to drive results
Your recognition strategy should be separate, but incremental to your compensation strategy. Think of it as inspiration vs. compensation. When we use a recognition program, we are influencing, culture, behaviour change and incremental effort – often featured on the Public Recognition wall of the solution.
As recommended by WorldatWork, compensation and recognition are both key parts of the total rewards strategy. Understanding how they differ is essential to creating a recognition strategy that has the greatest impact.
Compensation is what we're paid for doing a job. It's what we expect to receive for our efforts. We work for a given salary, wage, bonus opportunity, etc.
To be effective, recognition must be meaningful and distinct from compensation. Cash and cash equivalents, when given as recognition, are simply lumped together, or "lost," with other compensation. Non-cash awards reinforce the employee-company link whenever the award is used or viewed. Offering a broad selection of non-cash awards ensures there's something appealing to everyone – which is especially critical if you have a diverse, nationwide workforce.
Recognition supports your employee value proposition
To maximize results, companies need the right people working together, doing the right things to the best of everyone's abilities. Ultimately, a company's employee value proposition (EVP) is what attracts and retains these "right" people. The EVP is defined as the complete offering a company makes to its prospective and current employees in return for their best efforts. It encompasses culture, pay and benefits, all of the non-financial aspects — including recognition — that attract, retain, and motivate employees, and the reasons former employees would speak well of the company.
In addition to the day-to-day work experience, or how much an employee feels they belong with their role and team, we often use things like paid time off, health benefits, career advancement opportunities, commission or bonuses and recognition to make employees feel valued and appreciated for the work they do.
Many of these come at a cost to the organization so it's important to understand which are most effective in impacting employee performance and commitment. In other words, what do you offer that is most valuable to your employees?
One way of measuring this is employee net promoter score (eNPS). Pioneered by Bain & Company and Fred Reichheld to measure customer experience, NPS has been used primarily to determine how likely a customer is to stay and offer referrals. This same measure can be adapted to gauge employee sentiments around a specific program, initiative, or work experience as a whole. While it won't provide a complete picture of how your employees feel, it can be paired with other metrics to provide a holistic view of the value proposition you're offering.
eNPS is a simple measure, based on one question: "How likely are you to recommend this company (or this program, or initiative) to others?"
Though simplistic in nature, it is the first step in understanding if you're providing the right employee experience, one they value and find motivating.
Case Study
One global technology company is using eNPS to measure employee attitudes about its corporate employee recognition program. Knowing employee recognition outperformed other areas of their EVP, they used eNPS to identify strengths of their existing program and gaps they needed to address. Understanding employee perceptions about the program has helped the company make changes that have led to a 100% increase in eNPS over 4 years.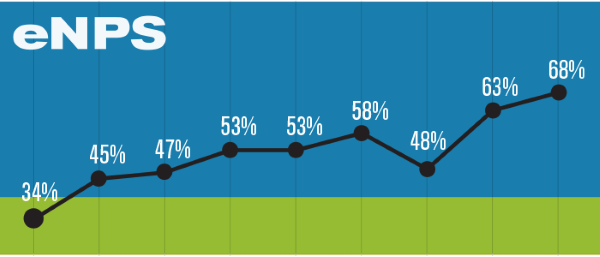 __________
Steps to creating an employee recognition program
Here's how to design and create an employee recognition program with your people in mind.
Set objectives
Set your objectives, expectations, and the intended result from the employee recognition and rewards program:
What is the purpose of implementing the program?
What are you trying to achieve?
How will you measure their impact and effectiveness?
What are the behaviours and outcomes that you want to recognize and reward?
How will you differentiate between different levels and types of performance?
Once you set your objectives, it will become a lot easier to build a program that'll work to fulfill your objectives. Consider involving your employees in setting these objectives. It will help you align them with your corporate mission, vision, and values.
Align with the company culture
If you want to see positive results, then the surest way to do so is to align the program with the company culture. By doing so, you ensure that not only do you retain your present employees but are also able to attract the top performers.
Employee recognition programs shape culture which drives engagement.
A company's culture is critical to its success. As Harvard Professor Emeritus Dr. James L. Heskett wrote in his book Culture Cycle, effective culture can account for 20-30% of the differential in corporate performance when compared with "culturally unremarkable" competitors. Why? One of the primary reasons is that there's a strong link between a company's culture and the engagement of its employees. Culture influences people's behaviour on a daily basis and drives innovation and the customer experience. When aligned with business strategy, culture attracts people who are comfortable in the culture – producing higher levels of engagement. Employee recognition programs boost employee engagement by acknowledging contributions.
Dr. Brad Shuck defines employee engagement as: "an active, individual psychological state operationalized by the intensity and direction of cognitive, emotional, and behavioural energy." It's a way of describing employees' level of commitment to the company and to their work. Employees who feel appreciated and valued for the work they do are most likely to be engaged.
Allocate budget
Depending on the size of your organization, you can be spending an average of $125 to $175 per employee per year on award costs and another $50 to $75 per employee per year on administrative costs.
Determine scale
Many organizations around the world have a global audience. It is critical to ensure you select a partner with global expertise and the local support you need to most effectively run your global recognition program. This strategy provides many benefits to your program stakeholders and program participants as well as cost-savings to you.
A truly global footprint allows for support to your local recognition program teams around the world. And is the best fit to meet and exceed your global needs.
Ensure support through a proven account management structure in which a global account manager is responsible for the entire program.
Underneath this global leader are regional account managers who support your local operations around the world allowing for in-region and in-time zone support for your stakeholders in each region. This approach allows for a global program consistent around the world while also addressing region-specific needs.
Your program stakeholders around the world are one of your biggest assets and are your program ambassadors during program design, implementation, and ongoing management.
By providing these integral team members with local support, you are helping to engage them and facilitate a deeper commitment to your global recognition program.
Regional and local promotions
In-country local offices around the world should offer account management, technical development and support, creative services, event services, program design, training, program analysis and customer service. And work directly with your team members in the region to create or modify local promotions to best meet the needs of your participants in each region. We call it Glocal (Global presence and local expertise).
Local expertise and know-how will help guide your team members through local promotion design and implementation. Teams should work as an extension of your regional teams to help you meet your business objectives around the world.
Participant benefits
Your program should have Customer Service Support in-time-zone for all program participants around the world. By providing in-time-zone and in-language support, you assure that your employees receive prompt, relevant support to address their inquiries or concerns. When you provide a flexible, in-language platform, you are better able to engage your participants through a program that feels relevant and suited to them.
Culturally relevant and aspirational awards
Award fulfillment for participants should be unique to each country and ensure the cultural relevancy of the awards offered around the world. Through continual evaluation and review of the items that are being redeemed. This evaluation of redemption patterns provides insight into the items that are most desirable and helps to identify any gaps in which there is an opportunity to add additional items to the reward offering.
We locally source our awards – we are physically located in-region and therefore are able to provide awards that are culturally appropriate and desirable while also anticipating trends. This ensures that your employees will be offered a targeted and meaningful array of choices for their rewards.
Company benefits
Local fulfillment
As you know, the award redemption experience is a reflection of your program for your participants. Implementation of a strategic, experience-centric local fulfillment process helps ensure your participants have a quality, swift and cost-effective award redemption experience. This results in cost and time savings for your participants and a world-class redemption experience.
In-country fulfillment is essential as it maximizes the participant reward experience by minimizing shipping and customs expenses and delays.
In-country invoicing
Engaging a partner with a truly global presence means you will save money and build ownership at a local level. The ability to bill in-country through local offices not only provides support for your program from that location, but it also provides the ability for in-country billing. The benefit of in-country billing will vary by country and vary based on where your budgets reside, and invoices are paid. In-country billing allows your local entities to claim taxes back, which can result in significant savings.
__________
Introduce the new employee recognition program
It is important to set goals around the program launch and allocate sufficient resources to ensure good communications, training, onboarding, flexibility measurement and ongoing improvement.
Engage employees with a call-to-action to log on, send a recognition, and read the communications.
Keep a simple and consistent experience across locations.
Maximize the recognition budget to create an engaging experience that's scalable but memorable.
Make it an experience – consider merchandise and trip giveaways, branded Items, or On The Spot cards. Show them recognition is rewarding right from the start.
Make it informational – Resource Guides, Fact Sheets, Ensure Expert Ambassadors are on hand to show them the way.
Complete manager training well in advance of the launch and provide them with support material. Their ongoing active involvement is essential to the program launch and ongoing success. Create goals and feedback mechanisms.
Utilize Program Analytics to measure and adapt your recognition strategy.
Program goals should include metrics around launch day and the weeks and months that follow to ensure that recognition becomes ingrained in the company culture.
Communicate relevant milestones to a broad audience and celebrate often.
Measure performance
A well-performing employee recognition program can have tangible impacts on your organization. As a starting point, your employee participation rate will give you a high-level understanding of its success.
Your participation rate is the percentage of team members who are using the system to either send gifts or nominations. Generally speaking, a participation rate of 80% means you have a strong, recognition-rich culture.
However, you shouldn't necessarily expect that level of adoption straight off the bat. Within the first 90 days of implementing your program, a 40% participation rate should be enough to indicate that you're on the right track.
Additional key metrics include engagement, intent to stay, commitment, and intensity of work. We know through our research that those who receive multiple types of recognition are happier, more engaged, committed and intensely performing all can have a direct impact on your bottom line by reducing costs or increasing revenues.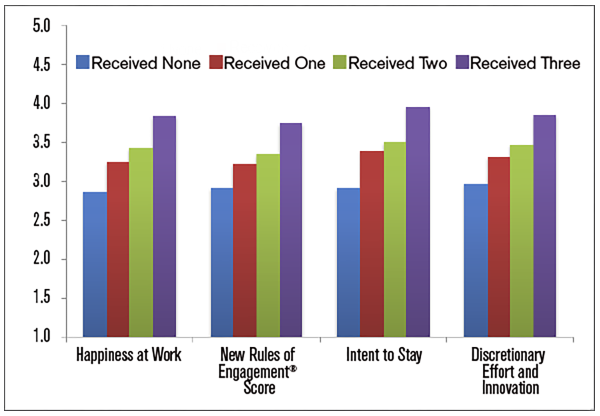 __________
Finding the right recognition solution
Flexibility is key. Look for a recognition solution that provides an engaging, fun, and effortless way to engage, retain and recognize employee accomplishments including an extensive library of built-in recognition modules, along with robust segmentation capabilities.
Best-in class-solutions incorporate social science principles and are designed for visual impact, ease of use, and to bring your EVP to life. The solution should have the capacity to run multiple promotions with different audiences at the same time and post-program rules to targeted audiences.
Offering many personalization options will make the site as unique as your organization. This should include corporate and program branding logos, colours, font, site layout configuration, inclusion of your values/behaviours, custom eCards, badges, and more. A robust reporting suite and an account team who manage and support your employee engagement strategy by:
Understanding the objectives: Insights; determine key business or performance issues and drivers of success, best practices in engagement.
Develop a strategy: Key drivers, project planning, roadmap, and key metrics. Program theme, logo, creative and communications.
Integrating program design: Behavioural economics, engagement, motivation, and reward strategies.
Executing tactics: Manage the details, and update progress, ongoing program operations, and project timeline management.
Measurement: Ongoing program tracking reporting, analytics, program reconciliation and return on investment (ROI).
__________
The business case for employee recognition
Recognition programs are seen as an important tool used to drive employee engagement, increase retention, and improve productivity. Most Fortune 2000 companies have strong employee recognition programs that are designed to align cultural values, behaviours, accomplishments, and results across the entire organization. However, an emerging trend is to leverage the recognition program as a tool to drive strategic and financial goals of the business by involving everyone who can directly impact those goals.
Results-based recognition is an engagement methodology that delivers incremental value to an organization by aligning employee efforts toward strategic initiatives.
Demonstrate the potential ROI
This begs the question; can you measure ROI on recognition initiatives? YES, but you must define what's important to measure. It's a question that always comes up when companies are considering starting an employee recognition program or questioning if they should continue implementing a program: "What's our ROI?"
6 steps for determining the ROI of your employee recognition program:
1. Start with defining your recognition objectives.
Recognition can be viewed as simply a "warm fuzzy" that is impossible to measure if you don't first assign specific objectives for the program. To create a meaningful ROI, first, determine what the real business need for creating a program is. Common needs include:
Improving morale
Increasing productivity
Improving absenteeism
Reducing turnover
Reducing costs
Reducing customer complaints
One of the biggest mistakes you can make is to try to set too many objectives and not focus on what really matters.
What are the one or two most compelling needs that you feel recognition can impact?
What is leadership most concerned about?
Your recognition program may also positively impact other objectives, but if you focus on one or two you will find it easier to create a defensible ROI.
When choosing your key objectives, keep in mind that some metrics are easier to measure and demonstrate ROI than others. If a key objective is to improve employee morale, for example, you should strongly consider using a credible control group to help demonstrate ROI (see step five).
As you evaluate what key objectives to select as the basis for your ROI, factor in how the financial benefit of improving a specific metric can be calculated. For example, the benefit of improving absenteeism could be calculated by offsetting any additional overtime wages incurred. Or the value of reducing turnover may be calculated by the cost saved in recruiting costs and new employee training costs.
Using existing data that the company already collects will have more credibility than new data you need to create. Plus, it will be easier and faster for you to access existing data versus creating a new data set.
2. Identify the key metrics that already exist in your organization that align with your objectives:
How do you currently measure morale? Employee surveys perhaps.
What about productivity or rework costs? Use measurements you already have in place. First, this gives you a baseline. Second, you don't have to come up with a new measurement system that can be costly to implement and delay the start of your program.
As previously stated, using generally accepted, credible and existing corporate metrics for your selected business objective will always provide more validity to your data. Senior leadership will understand your ROI logic when you can tie it to measures, they have come to rely upon and trust. New metrics can invite skeptics to challenge your information – clearly, a position you don't want to find yourself in.
3. Consider establishing a control group.
Analysts will tell you that without having a control group – those not participating in your program – much of your data isn't reliable. The ability to see change among those who use recognition and those who can't (as opposed to those who won't) is important. Having a credible control is crucial to demonstrating a program's ROI.
The control group can be a selected segment of employees who will not have the option to participate. Or the control group can be a baseline period to use for comparison. Either way, be sure to ask leadership and your analytics teams for help in selecting and developing the control group. This adds credibility to your final ROI calculations and results.
4. Clearly define and then communicate what specific behaviours you want employees to recognize each other for that can impact your one or two key objectives and metrics.
Too often, recognition programs offer vague advice on what to recognize. It's common to see things like "going above and beyond" or "demonstrating our values" or "leading the way."
Employees need more specific direction. If you can't specify actions for the entire company due to the variety of work being done, then charge your management teams with defining those things that can impact change within their departments. Localize the program as finitely as you need to so you can measure its impact. If reducing employee turnover is your number one objective, ask each department to define why they believe turnover is too high in their group.
Of course, you'll get responses about poor pay and bad benefits, but help lead the discussion beyond those reasons. Ask, "If we can't give everyone a raise and free health benefits, what else can we do?" Those are the things you can recognize.
5. Set realistic expectations when defining a measurement schedule.
Employee recognition programs can take a long time to get going in a company. Some departments will get on board right away and in others, you'll be herding cats. It's natural to want to have "great numbers" to share with management on a frequent basis. You should reasonably expect not to see any significant change for at least six months against your key metrics and it could be as long as 36 months.
In the early stages of the program, focus your measurement on tactical results such as:
The percentage of managers who have participated in program training.
The number of recognitions employees have sent their co-workers.
The percentage of employees who have recognized a co-worker.
The number of recognitions, per manager, that have been given.
The percentage of managers using their discretionary awards budget.
These metrics can help you input data to pass on to leadership to show that you are making progress.
Equally as important, measuring the tactical components helps you identify if there are areas of the program that may require attention. You may discover that certain departments aren't participating at all while others are very active. Use this data to see what you can learn from the active groups to develop communications and training initiatives to help get non- or low- participating groups more engaged.
6. Be transparent and conservative when calculating your program costs.
In addition to awards costs and the administrative and communication fees you pay your recognition supplier, you likely have other labour and materials costs that you are absorbing within your budget. Your staff is training managers, running kick-off meetings, fielding questions, making presentations, travelling to other sites and so on. While including these costs will lower your ROI, it will increase your credibility when management understands that you are being completely transparent.
ROI = (metric during measurement period – baseline) ÷ cost of the program. Be conservative when reporting your ROI to senior leadership. Consider reducing your ROI by a percentage factor such as 30, 40 or 50%. Remember, other things going on in the company likely had some impact on the metric too. For example, if you can demonstrate a positive ROI by only claiming 50% of it is directly related to your program, you are sure to have more credibility with leadership.
Quantifying the impact of recognition is possible by following this 6-step process you can quantify the impact of recognition with an ROI analysis.
Get executive buy-in
Executive buy-in plays a key role, especially in the success of a newly introduced program. Show the impact of recognition, such as the link between regular recognition and employee engagement and satisfaction. For example:
Bottom line: Recognition is an investment with quantifiable returns: increased engagement, productivity, and profitability and reduced employee turnover. Employers with the most engaged employees were 21% more profitable than those with the least engaged employees. In the end, it's in any company's best interest to invest in an employee recognition program.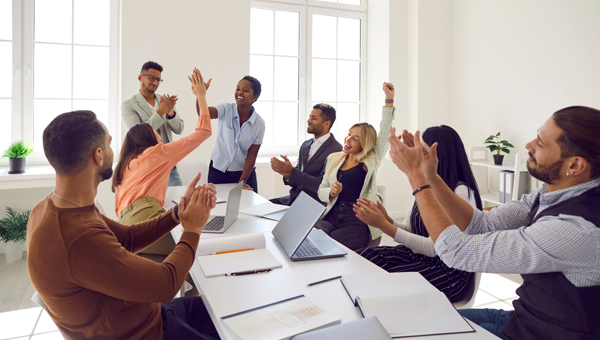 __________
Best practices for employee recognition programs
Before executing a recognition program, follow these 10 best practices to ensure you get the most out of your recognition program:
1. Make recognition fun, fast and easy.
Everyone in the company should understand how your recognition program works and it should be clear that recognizing some is quick and easy enough for peers and managers to do every day. Use an employee recognition app to make sending recognition to your coworkers fun, fast, and easy. With just a tap you can send recognition, add award points, include a video/photo, view Public Recognition, and contribute to service awards celebrations.
2. Align with company goals and values.
A recognition program should be tied to specific corporate goals and core values to help convey a company's strategic outlook to its stakeholders. A recognition program should be created with purpose and be aligned with a specific corporate mission, vision, goals, and values, and should reinforce certain behaviours.
3. Create a culture of recognition.
People talk about wanting to create a culture of recognition, however, just launching a recognition program does not achieve that goal. Managers should fully support what it means to develop and sustain a culture of recognition and that their participation is essential to the program's success. Managers should set clear targets need to be set and certain behaviours need to be reinforced. Reinforce that not only are your employees doing good work, but they're doing it in a way that supports the culture of your organization.
4. Recognize early and often.
The impact recognition can have on people when done on a regular basis is huge. When receiving ongoing recognition for a job well done, people are happier, more productive, and more likely to repeat the behaviour they were recognized for.
Managers play a huge role in any recognition program. Their support and adoption of the program will ultimately determine its success (or failure). Managers are the ones who give recognition to employees and they're the ones who will make your program engaging, memorable, passable…or forgettable.
6. Train managers.
Make it a top priority to train managers upon the program launch or when any program updates are made so they understand the importance of recognition and how best to give it. Give them access to resources they can reference when they need them and make sure there are ongoing communications to keep the program top of mind.
7. Make it rewarding and flexible.
Employers should give employees options and the flexibility to choose what rewards best meet their particular needs. Offer a collection of lifestyle awards culturally and demographically appropriate for employees in your organization. A meaningful award is something they'll be excited to receive but may not buy for themselves. A designer handbag or a golf club is a nice reminder of their recognition and gives them a greater affinity to your organization each time they use it. Or offer hand-curated experiences or experiential rewards to your employees.
A study by Harris Group found that 72% of Millennials prefer to spend more money on experiences than on material things. According to Dr. Elizabeth Dunn, Professor of Psychology at the University of British Columbia (UBC), experiences—as fleeting as they may be—deliver more-lasting happiness than material things. Dr. Dunn attributes the temporary happiness achieved by buying things to what she calls "puddles of pleasure".
8. Communicate the launch of your recognition program.
George Bernard Shaw famously once said, "The single biggest problem with communication is the illusion that it has taken place."
When introducing a new recognition program, once you've designed the program and determined the rewards, a strong communications campaign not only provides reinforcement but truly becomes essential to a successful program.
A well-designed communications campaign grabs your employees' attention and most importantly, keeps the key information top of mind–people remember what stands out. But beyond creating a buzz, you want your communications to drive activity and deliver business results.
9. Measure results.
To be successful, design your results-based recognition program in a way that will correlate performance and contribution to recognition. The forensic view of the results should look for evidence that managers who had high levels of recognition activity also drove the highest results through their teams. And were employees who gave and received high levels of recognition also likely to perform better in the individual aspects of the promotion?
10. Think (and act) globally.
With employees all around the world, it's essential that their recognition experience is memorable and meaningful, no matter where they are. Partnering with a supplier that has a global presence and offers comprehensive programs will help you better reach and recognize your employees. Plus, it allows you to successfully address any cultural issues, while also avoiding expensive international shipping and duties.
Ask the right questions to make sure your program supplier has brick-and-mortar locations outside of Canada. That way, your employees will have access to culturally appropriate award selections and local customer service. A Canada-based supplier can easily ship awards across borders, but one with a truly global footprint will save you shipping costs and provide locally relevant awards.
__________
Choosing the right employee recognition platform
Our industry-leading employee recognition program, DayMaker, can help you deliver your recognition program and maximize the impact of your recognition strategy.
DayMaker allows employees to earn award points for a variety of positive behaviours and redeem motivating and customizable award options from an online, mobile-friendly Merchandise Marketplace — tangible rewards are more impactful than gift cards — and Experiences Marketplace.
Using the principles of behavioural economics, DayMaker's social recognition component brings your EVP to life in a fun, easy-to-use, employee-centric platform. Here's what DayMaker's social recognition features have to offer:
Results-based Recognition: Use recognition to align employee efforts towards achieving strategic initiatives.
Recognition Celebration Page: Celebrate employee years of service awards with a personalized URL filled with comments, photos, and videos from co-workers, family, and friends.
Work Happier ProfileSM: Let employees instantly compare their happiness at work to others.
My Dashboard: Get a clear picture of recognition participation metrics that measure active participation – not just who sent the most recognitions.
Game Mechanics: Incorporate points and badges to reinforce giving or receiving recognition, celebrate milestones, and accomplish pre-defined performance objectives.
Micro-Targeted Content: Create awareness and maintain engagement with connected and non-connected employees using emails, texts, program reminders, and print collateral.
Supersonic Search: Make it fast, fun, and cool to recognize accomplishments.
Awards They'll Love: Offer an inspirational, vivid, and culturally appropriate award collection featuring more than 3.7 million of the most desired redemption options worldwide.
Project Management: Ensure a seamless onboarding experience, turn-key integration, and ongoing personal customer service in the areas where your employees live and work.
Ready to make recognition an ongoing part of your company's culture?