What kind of reward is most effective?
Do certain rewards work harder and last longer than others?
Can a reward motivate inspire employees to become their very best?
The answer is YES.
A study by WorldatWork indicated retail gift cards continue to be a popular choice for organizations that use them as employee recognition awards, years of service awards, and above-and-beyond performance awards.
However, only 42 percent of respondents surveyed said that they believe their gift card-based programs have a positive impact on retention. With several studies showing employees are becoming less engaged at work and more likely to leave their organization, the question employers need to ask themselves is 'are we using the right reward to retain employees?'
As we know, gift cards and cash (non-hedonic rewards) are often the default choice when it comes to rewards. And, yes, they're better than nothing. They're more impactful than a verbal kudos or a simple "thank you." But decades of academic research show that gift cards and cash-based rewards have little to no impact on behaviour. They do little to inspire employee, customer or channel performance.
In fact, a study conducted by the Incentive Research Foundation shows people find non-cash rewards (hedonic) far more appealing than cash rewards – especially when those rewards can be personalized to individual preferences. Surprised? You're not alone.
At BI WORLDWIDE, we conducted our own study that sheds some light. We started by selecting a group of employees and had their managers recognize them over a period of time with two different types of rewards:
Debit cards loaded with cash
Award points that could be redeemed on a wide range of reward options, from low-cost music downloads to luxury vacations
On average, during the study, these employees earned more than $100 per month on their debit cards and less than $100 per month in award points. Both types of rewards could be saved up or spent immediately. Both could be used for a wide range of options, either high-value or low-value. Both had monetary value. They were functionally equal. On paper, the spending habits should have been similar. In practice? They were very different.
The outcome?
Our group of employees spent nearly 85 percent of their debit card purchases on small transactions of under $30 each, primarily at vending machines, fast food restaurants, and gas stations. Their cash rewards melted into everyday life with little to no sense of being special or memorable. Their award points, on the other hand, were used very differently. More than 85 percent of these employees saved their points toward higher value items, like travel experiences or luxury merchandise.
The Rewards Efficacy Continuum
When creating – or rethinking – your company's reward strategy, it's best practice to follow the guidance of The Rewards Efficacy Continuum.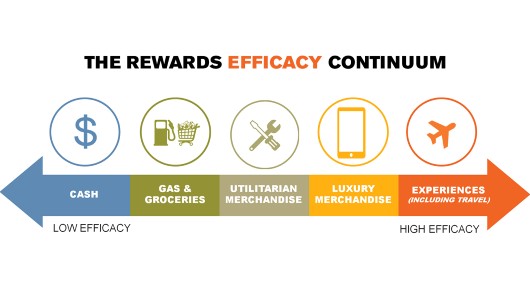 The rewards on the right side of the spectrum create 'a halo of happiness', before, during, and after the reward is received. As we know from our study, using a gift card to make a purchase is not quite the same as receiving a 'package' at your door. Everyone wants to receive and open 'gifts' or 'presents'.
Every time a program participant receives award points with the chance to redeem for hedonistic rewards, they feel the dopamine effect – they feel good about what they're doing and the things they've accomplished – but receiving award points isn't the full story.
Receiving points isn't the point
Employee points-based reward programs are only successful if the award points earned are redeemed. If an employee actively participates in your program and finds it valuable, they will spend their points on rewards as a way of experiencing that value and staying engaged.
The coffeemaker you redeemed for that goes 'ding' in the morning to let you know your coffee is ready reminds you every day of how you were rewarded for positive behaviour.
This means that if your employees are not redeeming points, they are not actively engaged. Recognizing an employee with points is not the ultimate goal. Having employees redeem for something that inspires and creates joy is. Whether that is an experience or a high-value product, getting the points isn't the point, redeeming them is.
To learn how BI WORLDWIDE Canada can help you provide inspiring employee rewards, visit our Experiences Marketplace or feel free to reach out to us at canada@biworldwide.com.