What is a hybrid workforce?
Most of us think of a hybrid workforce as a group of employees that can work from their company's workplace as well as remotely. However, what we realized from working with our clients these past 18 months is that a hybrid workforce is more diversified than we originally thought.
For example, we have a multi-generational workforce with baby boomers leaving the workforce in a few years and Gen Z entering the workforce. This generational shift has changed the landscape and how we engage employees.
We have flexitime workers, gig workers, part-time, and contractors. Then we have those who work in an office vs. a factory or a retail store or a warehouse. We have a hybrid of employees with different personalities. How they handle the new work situation, their personal situations at home and in life, and, of course, the diversity of the workforce has always been a focal point.
Therefore, what used to be a 'one-size-fits-all' recognition framework doesn't work in today's hybrid world.
Reimagining our recognition framework for the new hybrid workforce
Our traditional recognition framework — based primarily on reach and frequency — may not be sufficient anymore. Keep reading to learn about our new recognition framework for the hybrid workforce.
Moving from a performance-driven culture to a culture of agility, innovation, collaboration, and relationships
"When life conditions changes, the priority of culture, purpose and values also change" – Barrett Values Centre
Organizations should be questioning their corporate values and determine if they are still relevant today versus 18 months ago. As we know, by aligning your employees to your corporate values you begin to see daily behaviour change, whether it be monthly/quarterly progress and project-based or annual results.
The more opportunities we have to earn recognition, the more likely we are to feel connected to the organization and willing to give more effort.
Behaviours and people skills driving recognition within a hybrid workforce
At BI WORLDWIDE Canada, we are passionate believers of the science of behavioural economics (BE). BE tells us that while we like to believe we are rational beings and make decisions based on reason – that's not true at all. In fact, 77% of human decision-making is driven by emotion alone.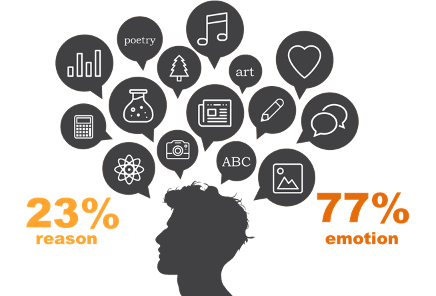 Over the past 18 months, we have seen this amplified. People's decisions have been far more emotional. The amplified behaviours we have seen come more into the spotlight are as follows:
Making a difference
Adaptability
Wellbeing
Safety
Teamwork
Work-life balance
Cross-group collaboration
Digital adoption
There's also a shift in expectations and the need for people leaders. The amplified people skills that have come into the spotlight are as follows:
Authenticity
General curiosity
Concern
Empathy
Psychological safety
Compassion
Right now, more than ever, organizations need leaders who lead with empathy and compassion.
Incidental happiness matters in a hybrid workforce
As employees continue to work in work from home (WFH) or transition to a hybrid environment, bumping into colleagues who you haven't seen in over a year helps to create moments of joy and gives you an excuse to go into the office.
Working from home requires more context than people would grasp naturally in an office, and people and organizations have created more meetings to fill the void. Employees are still wanting that reassurance, validation, and face-to-face feedback that they used to naturally receive from managers within an office environment which makes recognition more important than ever.
Transition to digital
As a nation, we have suddenly decided to digitize every in-person interaction. There has been a surge in the use of video conference tools such as Teams and Zoom. However, there has also been a surge in the use of recognition and reward programs. More people are recognizing one another to fill that gap and overcompensate for the lack of face-to-face engagement.
Organizations are also exploring digital options for a myriad of recognition programs whether it be nomination-based award programs, service award programs – anything that had a mix of both offline and online has now become primarily an online experience.
Organizations are also communicating more with respect to recognitions. Ensuring leaders and managers are well armed with what they need — from a digital perspective — to engage their employees.
Barriers have also broken down. The manager-employee relationship has now become more emotional. We are still seeing our teams in their home environment. We're meeting their families, their children and their pets which has taken that relationship to another level. This has created more empathy and more amazing bonds between managers and their peers.
Traditional recognition framework
The traditional recognition framework is still relevant in some ways, however, over the past 18 months, there have become more variables to it. What we used to use as a reach-frequency framework has evolved so that recognition can deliver on the employee experience.
Ever-evolving recognition framework
When creating a recognition framework for your hybrid workforce, you must consider your audience and their personal situations. In terms of frequency and type, you must ensure that your recognition framework covers off your time-frequency and ensure your subgroups are being recognized in the right way. The result? It depends on the organization. Typically, the foundation of your recognition framework reinforces your core values. This shouldn't change because it forms the basis for your organizational culture.
A new addition to the hybrid recognition framework that wasn't in the traditional framework is Drives Relationship. As mentioned prior, there's a lot more emotional engagement and sometimes you want to recognize a colleague for the work you do together. This has really been amplified over the past 18 months. As a leader or manager, when you are talking to an employee over a Teams or Zoom call, you now have to be able to pick up on those cues.
In terms of method, in a hybrid workforce, you need to be able to recognize in as many ways as possible. For example, virtual, face-to-face etc. It's not so much about recognition for the work done, but recognition for what's going on in that person's life.
Reach has also changed. What used to be peer-to-peer recognition now has many more aspects to it:
Cross-Functional
Cross-Hierarchy
Customers
Home/Family
While working from home, children have become part of people's working environment. Recognition of your employee's family as a whole is an important aspect when designing a recognition program. We really want to thank them too for letting us create this hybrid nature of working in their home.
Lastly, and most importantly, is moments. We have left it to managers and employees to think through what the moments of recognition are. We need to emphasize on the employee lifecycle and make an impression from day one. When you recognize during the onboarding process, it sets the tone for the culture of recognition that you are trying to create.
Recognition is more meaningful when it is tied to professional and personal goals. Express interest in your employee's personal goals and support them in trying to achieve them. Further, incorporating your employee's personal interests into their professional goals will help to improve employee engagement levels.
In this hybrid nature of work, it's important to capture personal moments and milestones. Your employees are more than just employees: They're part of a family, a friend, a volunteer, and they have a lot of achievements and milestones outside of work. Managing all of those aspects of life can often be challenging.
Using recognition to celebrate your peers' personal milestones lets them know that you see them as real people; that you appreciate who they are and the other events they have in their lives.
Birthdays, anniversaries, new babies, earning a degree, many personal milestones deserve recognition. Have a little fun writing a congratulatory note or finding an appropriate image to personalize your message.
Are we capturing these milestones in our recognition framework? It's what makes up the employee experience.
Work from anywhere. Recognize anywhere.
Here are nine recognition strategies that we would like to share with you that have worked well for both ourselves and our clients:
Make every interaction count – Every interaction that you have in a hybrid working environment means more to your employees now than it did in an office environment 18 months ago.
Make it personal – More than ever, great leadership involves an intense appreciation of each unique individual understanding each employee's abilities, aspirations and how they work best. Success on this rule is critical to achieving all the others.
Make it real, genuine, and authentic – You need to empower your employees to own the recognition that they received. Your employees have an opportunity in every interaction to engage their peers, their managers, and even their clients.
Check in – While regularly taking time to say hello to employees and check in with them might seem like an unnecessary drain on your productivity, these interactions are valuable points of connection for your employees and for you.
Send a gift or flowers – Show your employees how grateful you are with an employee appreciation gift.
Conversations – Conversations are a very effective strategy. With Zoom and digital fatigue becoming the norm, having a call with your employees to just "have a chat" can help support and get the best out of the individual.
Virtual celebrations – Celebrating a birthday or service anniversary? Hop on a video call together for dinner or a drink. Decorate your backdrop, play games, wear hats. Being virtual is a great opportunity to get creative. And remember to treat your hybrid colleagues equally.
Instant recognition – In a hybrid environment where you can't walk over to a person's desk to thank them, it's important to make the recognition instant to make it meaningful and maximize impact.
Recognition everywhere – We relied on tools and comfort zones in the office, but that's not there anymore. It's important to see what works for you in a hybrid workforce. There's no set formula.
To learn more about how BI WORLDWIDE Canada can help you along your recognition journey and create a recognition framework for your hybrid workforce, reach out to us at canada@biworldwide.com.