____________________
Columbus. Magellan. Marco Polo. Lewis and Clark. They had it easy!
Maneuvering your way through the complex and sometimes poorly mapped world of channel marketing can be a mighty task. Know that you're not alone in your quest for channel engagement.
____________________
Regardless of industry, we repeatedly see and hear these common problems businesses encounter when trying to engage their channel audiences.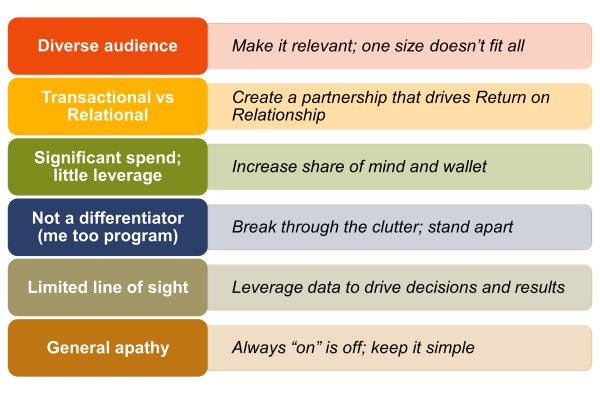 Understanding these widespread dilemmas when designing channel programs can help you steer clear of pitfalls and lead to a path of successful engagement that drives behaviour change and results.
Are you talking to me?
Every company is different. Every channel distribution is different. Every audience member is different. So why design a one-size-fits-all promotion? Programs that don't recognize the diversity of the channel audience and treat everyone the same often fail or return lacklustre results.
Identifying and utilizing audience segmentation is vital to delivering personalized and relevant content to each person. Leveraging segments allows for customized messaging and promotions to create focused, incremental growth. Ensure you're using technology and a program structure that supports conditional content.
Focus on relationships.
Channel programs are typically solely focused on the sale or transaction. In any relationship, this one-way approach can result in a dead end. The most successful programs intentionally incorporate relationship- or rapport-building elements that help the channel partner grow their business. These types of return-on-relationship activities can include rewarding for training, participating in polls or responding to surveys. Additionally, integrating lead generation or new business opportunities for active participation helps create a reciprocal relationship.
Keep it simple.
To be successful, a program needs to be easy for the end-user to understand and remove as many participation hurdles as possible. If the program is difficult to understand or requires too many steps, people will disengage (or never engage at all). Design the program to move participants along a desired path (personalized and conditional to their segment) and provide them with meters and progress trackers to show their advancement.
Is the juice worth the squeeze?
Make rewards attainable and frequent. Pay attention to an equitable value exchange: weigh the value of the requested activity (e.g. supplying data, completing a training, etc.) with the level of effort – and make sure the reward is commensurate. If the perceived value of the reward is inadequate, it is less likely a participant will complete the desired activity. Earning a reward creates a positive, emotional connection that fosters continued participation.
Incorporating promotional overlays on top of base earnings is also a great way to keep interest, energize the program, and drive further results. These overlays can include such things as tiering, double points for new products, selling across product lines (e.g. bundles) or threshold-based promotions (sell X products, earn Y).
____________________
The most important thing to remember is channel marketing programs are living and should evolve over time; you need to be in it for the long haul. Be willing to experiment and adapt to meet the specific nuances of your channel.
____________________