Learning is fundamental to employee experience – and we know people with strong learning opportunities who are engaged in their work exhibit 16 percent improved performance across all industries, roles, and job types.
We recently published an article entitled 'Why 9 of the World's 20 Most Valuable Brands are using BI WORLDWIDE for Learning', as ranked by Forbes list of The World's 100 Most Valuable Brands of 2017. When you browse through the list, it doesn't take long to realize that more than 10 percent of The World's 100 Most Valuable Brands last year were automotive firms.
Why Does the Automotive Industry Need Learning?
From our experience working with some of the world's leading car companies, the biggest challenge for most manufacturers is business growth, with parts and service business being the greatest growth opportunity. To optimize growth in a scalable and efficient way, many of the world's leading automotive organizations are leveraging learning and engagement to educate sales teams and channel partners to maximizing their full revenue potential.
As a fundamental part of this growth strategy, auto manufacturers are turning to effective training initiatives to combat market forces have been driving business to a global level. The scale and speed of the change have been accelerating at a dramatic rate and where business expands, learning must follow.
An automotive firm without an effective training platform cannot educate sales teams and channel partners on products and services effectively and may lose its competitive advantage in the marketplace.
Time and Resource Constraints
Automotive firms typically require ongoing training per calendar year. BI WORLDWIDE's (BIW) experience, based upon client interviews, suggests that it takes a significant amount of time to create a customizable eLearning program, and that doesn't include the research and development (R&D) time of future training improvement.
Most automotive manufacturers need to improve the relevance and usefulness of on-the-job training, but lack the resources to match the scale of training required and desire to utilize an in-house skill set.
The Case for Leveraging an Experienced Learning and Engagement Solutions Vendor
BIW is an experienced learning and engagement firm that combines automotive industry expertise with advanced software development capabilities. BIW started building learning and engagement solutions more than two decades ago in response to the increased demand for global learning within the automotive industry.
BIW's strategic partnerships extend to over 40 automotive brands globally, many of which include learning/certification design and development. BIW's development as a modern learning platform is the culmination of the development, R&D, and ongoing efforts of over 20 dedicated staff.
So, what makes us Different?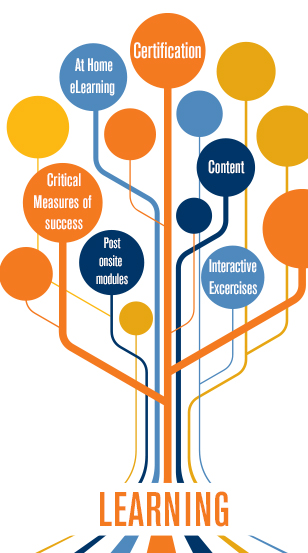 At BIW, we take the time to understand the specific behaviours that will deliver the results our global clients are looking for. Then we create targeted programs designed for specific learning environments. Our content is immersive, creative, and highly interactive.
When you learn with us, there will be no more PowerPoint presentations. Our experience includes, but is not limited to:
eLearning
Instructor-led training
Workshops
Digital publications
Video
Learning games
Simulations
Virtual reality
We offer content when you want it, where you want it, via desktop, laptop, tablet, mobile, virtual meetings, learning portals, or in person. We incorporate social media to promote informal, supplementary sales channel learning. We make learning easy, efficient, and always accessible.
Case Study: A Major U.S. Automotive Manufacturer Wanted to Grow its Parts and Service Business
A major U.S. automotive manufacturer saw new opportunities to grow its parts and service business. As a fundamental part of its growth strategy, it wanted to revitalize its non-technical parts and service web-based training to:
Communicate proven best practices without seeming to come from a "factory" perspective
Increase customer-pay parts and service sales
Increase customer satisfaction
Build customer engagement and loyalty
Meeting the Challenge of Business Growth
To meet this challenge, BIW needed to overcome users' perceptions that existing web-based offerings were not relevant to the "real-world" dealership environment, and they did not provide useful information to improve job performance.
BIW created a "virtual" dealership environment as a platform for presenting content and offering the opportunity to apply it in real-world scenarios. Our virtual dealership enabled us to create and present realistic scenarios in which participants could apply what they had learned.
The Result
By presenting content within the context of a dealership environment, service advisors who complete training sold, on average, 75 percent more parts and labour than those not trained, and achieved customer satisfaction scores nearly 15 points higher than those not trained.
Final Thoughts
The case for choosing a learning and engagement platform is appropriate if creating eLearning and engagement software is not an organization's core business interest. BIW's learning solution is a mature, market-proven platform that complies with best industry practices. BIW has a history of delivering its learning solution on time and within its clients' budgetary constraints.
BIW's teams employ a holistic approach to discovering unique client training requirements, then subsequently configures its training modules to meet these needs. BIW's successes have translated into industry recognition, namely being chosen by 11 of The World's Most Valuable Automotive Brands for learning alone.
BI WORLDWIDE Canada adopts the "profiting through knowledge" approach where the indirect benefits of having a well-educated and trained sales force can lead to increase bottom-line results and accelerated revenue.
To learn more about educating your automotive sales force or channel partners or overcoming your next business growth challenge, contact us at canada@BIWORLDWIDE.com.