Conducting business with virtual workers and virtual project teams has become our new normal for many organizations. In fact, you likely now have employees who are working remotely together who have never interacted face-to-face. How do you build culture and a sense of community from afar?
Leaders face many challenges in managing virtual workers. We are physically separated, reliant on the effectiveness of technology and have lost a spontaneous connection. However, a common denominator among most workers remains the same – the need to be recognized and engaged on an ongoing basis. People want to be connected to their leaders and to each other. Employees want to work for managers who appreciate them, whether in the office or working from home in a virtual setting.
In BI WORLDWIDE's annual benchmark study on employee engagement, conducted in June 2020, we found that remote workers are just as committed to their organizations and working just as hard. But at the same time, they also report being less inspired.
We have also learned in this study that now more than ever, employees cannot fully commit to a company they do not feel a part of. Fostering a sense of belonging within the organization on three levels is important:
The team: Feeling that your skills and abilities complement the team and that you can make a meaningful contribution.
The work itself: Having passion for what you do or feeling well suited for your role.
The organization: Belonging is also about inclusiveness and how you feel represented at work; representation of age, gender, race, and ethnicity in your team and leadership can have an impact before you even consider the work itself. Do I see myself represented in the organization?
A strong sense of teamwork is critical. Those who see how their work connects to the mission, whose ideas are taken seriously, and who feel valued will stay and do exceptional work. Managers can successfully recognize and inspire virtual employees using many of the same techniques they use for on-site workers with just a few adjustments.
4 steps for recognizing employees in a virtual workplace:
There are four key components to successfully recognizing virtual workers and each one plays an important role in creating a culture of recognition that is natural and builds upon its own success.
Step One: Effectively use technology
Virtual work environments depend on technology to be successful. Managers can take advantage of all forms of technology available to send recognition and appreciation messages to team members. This can include the following and more:
If you have a recognition solution in place maximizing the functionality of that solution is a great first step. The reality is, managers are busy and have a lot of demands on their time and sometimes don't remember to recognize their team.
An innovation in our employee recognition program, DayMaker, is Recognition Advisor. Recognition Advisor is a simple and smart "personal assistant" providing managers key insights, guidance, and encouragement to recognize their employees from that first day and throughout their entire work life cycle. Using data algorithms and behavioural science principles, Recognition Advisor continually informs managers of the precise point in time at which giving recognition will have the most impact on an individual employee's satisfaction. Based on each employee's personal data and recognition history, Recognition Advisor nudges managers to recognize employees during these opportune times. Either online or via our EZ Thanks app. The EZ Thanks app is fun, fast, and easy for managers to reinforce their company's Employee Value Proposition by maximizing the positive impact sending recognition has on your employees.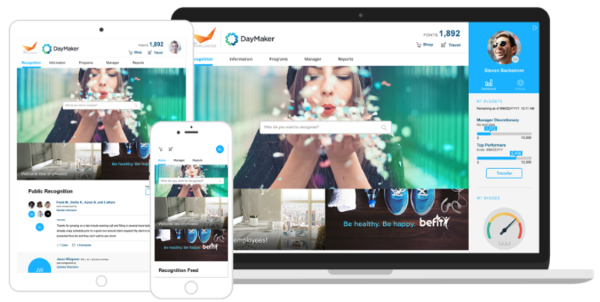 Change it up: Remember, there is no "one" right way to show appreciation. Use what is available, familiar, and easily accessible.
Try to mix up the way you send recognition messages for things you want the entire team to know about. Use a social recognition tool, broadcast communications and team meetings. For a personal word of congratulations, try picking up the phone whenever possible. For many of us it's easier to send an email, but is it as meaningful?
Imagine how different and special it would be for your employees to get a handwritten note in the mail from you. Or make it even more impactful with an On The Spot points reward card included in the note.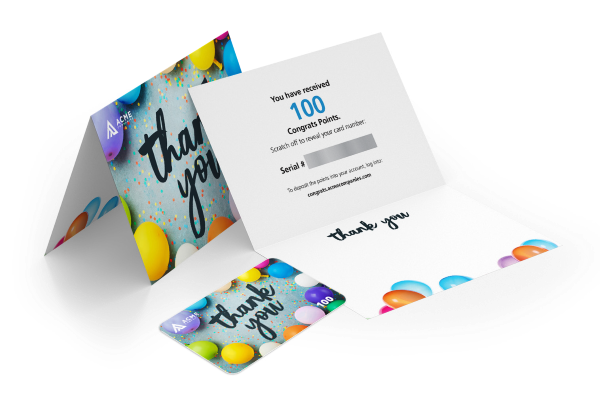 Try new things and don't get stuck in a rut. When you do have face-to-face opportunities to interact with employees, make the most of it! It will be physically distant, or it may be over a webcam but it's still relevant.
Spend time with each team member—one-on-one if possible—even if you have to schedule individual meetings. Create team virtual events and make sure team members actively interact with each other professionally – perhaps in a weekly kick-off or wrap-up meeting and don't forget to add some social time into the mix. People work best together (even remotely) when they have a personal connection.
In fact, in our New World New Rules global employee research, the first rule is to "Make it Personal". Employee engagement is an individual phenomenon and it's reciprocal, you get what you give. Every person's motivations, abilities, and goals are unique. More than ever, great managing is a matter of intense understanding of each unique individual – knowing their abilities, their aspirations, and how they work best. It's important to ensure each individual is led and managed with compassion and understanding.
Step Two: Make a personal connection
While you likely know your existing employees, as you onboard new employees remotely, it can be difficult to "get to know" employees in the virtual environment. It's important to reach out and take the initiative to make connections. Send a welcome message to each new employee's home a few days before the worker's start date to begin the process. Make it a point to get to know at least one thing about each employee on a personal level such as hobbies, volunteer activities, pets, children, leisure pursuits, etc. This will help you make a personal connection and it's a wonderful way to open a casual conversation.
Stay connected by sending a greeting or recognition to each employee every day or two. Remember to keep this light and friendly. Add an ecard or attach a photo or video with some personal comments so the employee knows you are reaching out in a spirit of camaraderie, not "checking up" on them. It seems basic but calling a person by name is one of the most basic ways to show that you respect them as an individual. Whatever virtual technology you are using, turn on the camera and contact each employee once a week. Ask the employee what went well for them that week. This gives you the opportunity to give immediate feedback for good work. Proactively ask for feedback and use employee comments as an opportunity to see how things could be done differently and engage a new associate. Sometimes the best thing you can do is simply listen. Listening and acknowledging what you have heard tells employees that you value their opinions and are willing to take the time to hear them out.
Step Three: Build community
In the virtual workplace, employees don't have many opportunities to develop business friendships that can happen easily in face-to-face work environments. However, you can foster a sense of community by using technology and helping employees make their own personal connections. Utilizing peer to peer, manager recognition, and nominations programs around your company values or desired behaviours is a great start in building a culture of recognition in your team. Everyone can share in the recognition when it appears on your solution's recognition wall. If you can, integrate your technology to include your intranet so recognition can be broadly shared.
Asking new team members to share a brief biography of themselves with other team members is a way to introduce new employees. Help all team members see the big picture of what is going on with the team by sharing messages of praise from customers, suppliers, managers, and other employees. Communicate with the mentioned employee first and ask permission to broadcast it to the rest of the team. Encourage your team to post about the positive work they are doing and projects they are excited about so the whole team can celebrate successes. Project a SMILE in your voice, in your written words, and on your face during video sessions. The more you project an upbeat positive attitude, the more your community of employees will too. Attitude is contagious-both positive and negative.
Another important rule that emerged from our New World New Rules employee research is to "Unite them". It has been more difficult for those working from home to feel a strong sense of teamwork with their colleagues. While we need to have technology to seamlessly communicate, we all have a bit of screen or digital fatigue. Collaboration and teamwork have wide-ranging effects on an employee's performance; those that are deploying teams' home for the long haul will have to reinvent their approach to foster strong collaboration. Hard work is socially contagious. Employees who regularly share their work with other employees who may be interested foster collaboration. It's not just teamwork, but its intensity that drives the highest levels of performance.
There is a direct relationship between the quantity and quality of collaboration and the degree to which employees say their job brings out their best ideas and how hard they intend to work.
There is a thirst to reconnect, for now with physical distance precautions. We need to harness the collective energy of our teams to build for the future.
Step Four: Create exposure with the organization
Most employees want to advance within their careers whether it's by being promoted or by taking on new and more challenging tasks. In the virtual environment, it can be very difficult for employees to get the exposure they need to position themselves for career development. A great way to recognize employees is to simply tell other managers and your superiors about your special employees. It not only helps the employee, but it's a testimony to your great virtual management skills! Be sure to tell your employees when you have passed on their praises to others in the organization as well. Not only will it make them feel great, but it will show them that you care about their personal success at the company. Whenever you implement a suggestion made by an employee, make sure to let their colleagues and your managers know where the great idea came from. Doing this gives you and the employee credibility throughout the company and builds trust within your team.
Employees are also more amenable to change when they know what is going on from an organizational perspective. Show employees how much you respect them by sharing key organizational measurements on a regular basis. Virtual workers may not have easy access to the company "grapevine." To help good employees develop professionally, suggest specific company online training classes, additional education, books to read, or webinars to attend to build their skills. Virtual employees often are not aware of opportunities due to their limited casual interactions.
Be sure to acknowledge key employee milestones frequently to show employees that you value their loyalty. This can be things like a six-month anniversary as a team member or completing three consecutive quarters as the team meeting recap coordinator in addition to your service anniversary program. Our updated DayMaker Service Awards celebration pages incorporate some easy and fun innovations including High Fives, a one-click way to say "Congratulations!", Group Doodle to personalize the celebration with drawings and stickers, and comment sharing from the entire team.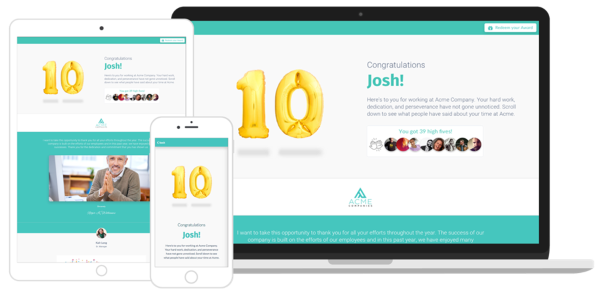 Two rules closely aligned with this step are "See their future" and "Magnify their success".
Make an employee's day every day!
Whether you manage virtually or in a traditional environment, you always have the opportunity to make
someone's day! Each time you compliment an employee, you are encouraging them to continue the good work and to find even better ways to get the job done. Be timely with all recognition. Although you may be dealing with time zone differences, place your call, send your text, post your message, and make the connection as soon as you are aware of recognition-worthy action. Be timely and don't let a positive opportunity to make a difference get away from you…no matter where you happen to be.
If you would like to get started right now, check out our complimentary tool for showing appreciation and make someone's day a little brighter.